WASHINGTON, DC / ACCESSWIRE / July 9, 2018 / EarthWater www.EarthWater.com, a health and wellness company that manufactures natural high alkaline mineral infused beverages is pleased to announce its role for the 3rd Year in a Row as the presenting sponsor of the 2018 Miss Earth United States Pageant, www.missearthunitedstates.com, on July 14, 2018, LIVE from Washington D.C. on Dish Network, www.dish.com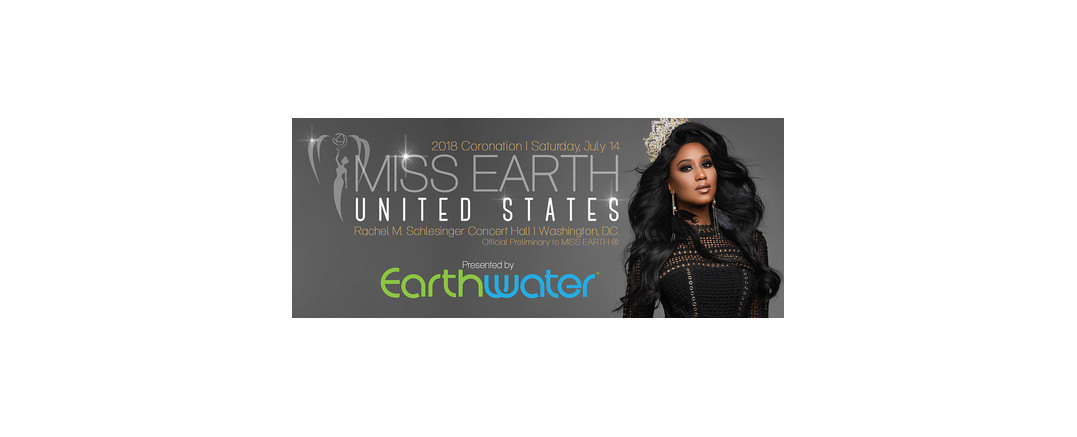 Miss Earth is an international organization that raises awareness for environmental concerns and is recognized as one of the top three pageants. Televised globally, nearly 100 countries send a representative each year with the chance to become Miss Earth. The winner will advance to the 18th annual Miss Earth Pageant in the fall.
Miss Earth United States President Laura Clark said, "The Miss Earth organization is the most relevant pageant program available to young women wanting to impact their communities. These "beauties for a cause" are provided a powerful platform to positively influence environmental causes around the globe. We are proud that EarthWater has been one of our most valued partners the last few years."
The United States representative will be selected based on a variety of areas, including: photogenic, public speaking, interview, social media, community, video, runway, swimwear, and evening gown.
American women, ages 18-26, will take the stage with the chance to win the coveted title, and travel to the Miss Earth competition in the fall. USA Delegates will spend five days in the nation's capital with several shows and events open to the public from July 10-14, 2018.
EarthWater is the presenting sponsor, and the broadcast sponsor is B4UTV Channel 712 on the Dish Network. Show hosts are Steven Roddy, of The Pageant Planet, and Brittany Ann Payne, 2015 Miss Earth Water.
EarthWater Chairman/CEO, CJ Comu, stated, "It's a pleasure to be back as presenting sponsor again this year – now on national television. These are amazing women that have worked hard on their personal career and their mission statement to help make planet earth a better place. We are also very excited to have many of the delegates be a part of the EarthWater ambassador and influencer campaign, as they reach out to their personal followers to help promote the EarthWater brand and products. We also welcome other global influencers who are passionate about health and wellness to join our movement!"
Preliminary contest sponsors include Mac Duggal, Planet Beach Spa & Tan, and Pixton Design Group Swimwear. Photography provided by Southern Exposure.
About Miss Earth United States
Visit www.missearthunitedstates.com for program information and www.missearth.tv for information on the international pageant. Media inquiries may contact [email protected]. Follow the pageant updates at www.facebook.com/missearthus and www.instagram.com/missearthunitedstates.
About EarthWater Limited
EarthWater Limited www.EarthWater.com is a manufacturer of Mineral Infused High-Alkaline Beverages. Their brands, FulHum www.DrinkFulhum.com and ZenFul www.DrinkZenful.com, use a 100% natural, proprietary blend of organic Fulvic and Humic complexes mined from deep within the Earth's surface. Fulvic and Humic minerals are believed to have properties which detoxify free radicals and improve absorption of key nutrients. To engage with EarthWater online, you are encouraged to "like" and "follow" the brand's social media pages. EarthWater can be contacted via email at [email protected].
SOURCE: EarthWater Limited